The last time I used in-flight WiFi I was somewhere in the air between LAX and JFK, transferring money between bank accounts. As an Australian it was quite a novelty to do my banking from a plane. It got me thinking recently about who is visiting our websites using in-flight and what kind of experience are we giving them. What are they looking for? Is your site loading too slow? Should we be showing them something different to what we are showing visitors on the ground?
Using Google Analytics I identified which visitors were viewing a website using in-flight WiFi by looking at the network 'service provider' recorded.
Telecitygroup Customer Onair is the service provider used by Singapore Airlines, Emirates and British Airways (and 16 other airlines).
Etihad also uses a service provider called  'Panasonic Avionics Corporation' on some of their wide-body aircraft.
Think about what we could show these customers or make easier for them to find when we know they are on board flight when visiting.
Perhaps it's a special duty free offer they can claim before touching down at their destination. An ebook to buy and read. Directions to cabs at the airport. The ability to tip off an Uber driver that they'll be at the airport in two hours.
Maybe it's a leaner website that loads faster than your mobile optimised website (plain for planes).
It's a tactic more relevant to airport, airline and other travel industry websites now, but as in-flight WiFi usage increases it'll present an opportunity for all types of websites to tinker with the content shown to these customers.
Take a look for yourself to see if any of your website visitors are visiting while flying: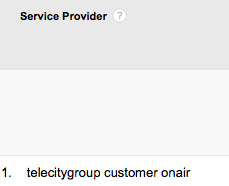 In your website's Google Analytics account, select Audience, Technology and then Network. Use the search field to filter Service Providers.
Unfortunately, there's very few airlines arriving and departing from Australia that currently offer in-flight WiFi so it would be great to compile a list of service providers for other airlines , especially US and European carriers.
What WiFi service provider does your airline of choice use? Perhaps you're using it now while reading this. Let me know and lets create a list of all providers and how we can identify each in Google Analytics.